Custom 5
Overview
This example will display a dual multi-select QuickForm element, to manage a simple fruit list.
This example show how to arrange item in list with two buttons and a sort option.
Warning: sorting list is a developer issue only. it is not for end-user.
Screenshot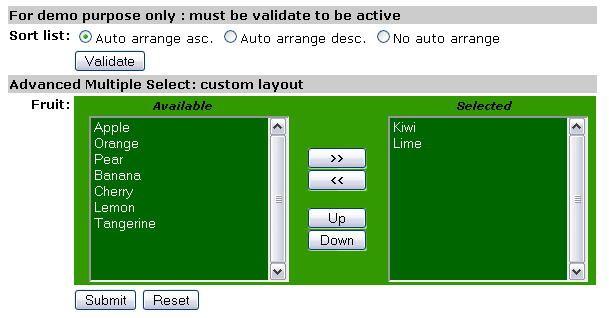 Demonstration
Give it a try
Dependencies
This example requires mandatory resources :
Explains step by step
Step 1
The dual multi-select is created (lines 78-81) with no headers yet defined, and load with data defined from $fruit_array (lines 40 thru 50).
To simulate 3 different scripts with each a sort option, we have added lines 68-71, a radio button group to select sort value: auto arrange in alphabetic order, reverse, and without sort.
In real case condition, these sort options given to end-user should be only available by programming (see line 80) with usage of php constant SORT_ASC, SORT_DESC.
Step 2
The basic render is replaced by a new layout definition (lines 90-102) set at line 103. This layout includes moveUp and moveDown buttons. That will allow to manage selected list item as end-user want.
Step 3
Both list are 200 pixels width (line 79) and display 10 items (default attribute). Styles are managed by CSS rules and class pool (lines 128-143).
| Property | Value | Default |
| --- | --- | --- |
| size | | 10 |
| width | 200 | 100 |
| class | pool | |
The swap buttons used default values except for CSS class rule.
| Property | Value | Default |
| --- | --- | --- |
| name | | add |
| value | | >> |
| type | | button |
| class | inputCommand | |
| Property | Value | Default |
| --- | --- | --- |
| name | | remove |
| value | | << |
| type | | button |
| class | inputCommand | |
| Property | Value | Default |
| --- | --- | --- |
| name | | up |
| value | | Up |
| type | | button |
| class | inputCommand | |
| Property | Value | Default |
| --- | --- | --- |
| name | | down |
| value | | Down |
| type | | button |
| class | inputCommand | |
Source Code
PHP code
* Custom advMultiSelect HTML_QuickForm element

* that allows to manage sort of select boxes.

* @version $Id: qfams_custom_5.php,v 1.6 2009/01/28 22:24:43 farell Exp $

* @author Laurent Laville <pear@laurent-laville.org>

* @package HTML_QuickForm_advmultiselect

* @example examples/qfams_custom_5.php

* qfams_custom_5 source code

* @link http://www.laurent-laville.org/img/qfams/screenshot/custom5.png

* screenshot (Image PNG, 609x318 pixels) 9.94 Kb

require_once

'HTML/QuickForm.php'

;

require_once

'HTML/QuickForm/advmultiselect.php'

;

$form

=

new

HTML_QuickForm

(

'amsCustom5'

)

;

$form

->

removeAttribute

(

'name'

)

;

// XHTML compliance

// same as default element template but wihtout the label (in first td cell)

<!--

BEGIN error

--><

span style

=

"color: #ff0000;"

>

{

error

}

</

span

><

br

/><!--

END

error

-->

{

element

}

// replace default element template with label, because submit button have no label

$renderer

=&

$form

->

defaultRenderer

(

)

;

$renderer

->

setElementTemplate

(

$withoutLabel

,

'validate'

)

;

'tangerine'

=>

'Tangerine'

,

// decides either both select list will have their elements be arranged or not

if

(

isset

(

$_POST

[

'autoArrange'

]

)

)

{

if

(

$_POST

[

'autoArrange'

]

==

'A'

)

{

}

elseif

(

$_POST

[

'autoArrange'

]

==

'D'

)

{

// rendering with QF renderer engine and template system

$form

->

addElement

(

'header'

,

null

,

'For demo purpose only: must be validate to be active'

)

;

$arrange

[

]

=&

$form

->

createElement

(

'radio'

,

null

,

null

,

'Auto arrange asc.'

,

'A'

)

;

$arrange

[

]

=&

$form

->

createElement

(

'radio'

,

null

,

null

,

'Auto arrange desc.'

,

'D'

)

;

$arrange

[

]

=&

$form

->

createElement

(

'radio'

,

null

,

null

,

'No auto arrange'

,

'N'

)

;

$form

->

addGroup

(

$arrange

,

'autoArrange'

,

'Sort list:'

)

;

$form

->

setDefaults

(

array

(

'autoArrange'

=>

'N'

)

)

;

$form

->

addElement

(

'submit'

,

'validate'

,

'Validate'

)

;

$form

->

addElement

(

'header'

,

null

,

'Advanced Multiple Select: custom layout '

)

;

$ams

=&

$form

->

addElement

(

'advmultiselect'

,

'fruit'

,

null

,

$fruit_array

,

array

(

'class'

=>

'pool'

,

'style'

=>

'width:200px;'

)

,

$ams

->

setLabel

(

array

(

'Fruit:'

,

'Available'

,

'Selected'

)

)

;

$ams

->

setButtonAttributes

(

'add'

,

'class=inputCommand'

)

;

$ams

->

setButtonAttributes

(

'remove'

,

'class=inputCommand'

)

;

$ams

->

setButtonAttributes

(

'moveup'

,

'class=inputCommand'

)

;

$ams

->

setButtonAttributes

(

'movedown'

,

'class=inputCommand'

)

;

// template for a dual multi-select element shape

<!-- BEGIN label_2 --><tr><th>{label_2}</th><!-- END label_2 -->

<!-- BEGIN label_3 --><th>&nbsp;</th><th>{label_3}</th></tr><!-- END label_3 -->

{add}<br />{remove}<br /><br />{moveup}<br />{movedown}<br />

$ams

->

setElementTemplate

(

$template

)

;

if

(

$_SERVER

[

'REQUEST_METHOD'

]

==

'GET'

)

{

// fruit default values already selected without any end-user actions

$form

->

setDefaults

(

array

(

'fruit'

=>

array

(

'kiwi'

,

'lime'

)

)

)

;

$buttons

[

]

=&

$form

->

createElement

(

'submit'

,

null

,

'Submit'

)

;

$buttons

[

]

=&

$form

->

createElement

(

'reset'

,

null

,

'Reset'

)

;

$form

->

addGroup

(

$buttons

,

null

,

'&nbsp;'

)

;

<!DOCTYPE html PUBLIC "-//W3C//DTD XHTML 1.0 Strict//EN"

"http://www.w3c.org/TR/xhtml1/DTD/xhtml1-strict.dtd">

<html xmlns="http://www.w3.org/1999/xhtml" xml:lang="en">

<head>

<meta http-equiv="Content-Type" content="text/html; charset=iso-8859-1" />

<title>HTML_QuickForm::advMultiSelect custom example 5</title>

<style type="text/css">

<!--

body {

background-color: #FFF;

font-family: Verdana, Arial, helvetica;

font-size: 10pt;

}

table.pool {

border: 0;

background-color: #339900;

}

table.pool td {

padding-left: 1em;

}

table.pool th {

font-size: 80%;

font-style: italic;

text-align: center;

}

table.pool select {

color: white;

background-color: #006600;

}

.inputCommand {

width: 60px;

}

-->

</style>

<?php

echo

$ams

->

getElementJs

(

false

)

;

?>

</head>

<body>

$clean

=

$form

->

getSubmitValues

(

)

;

</body>

</html>